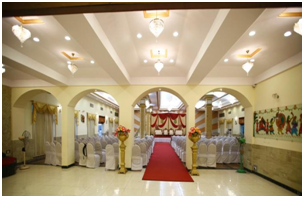 INDRAPRASTHA HALL
Indraprastha hall, admeasuring 5000sq.ft, has exquisite interiors and high ceiling to give it a majestic look. It has a floating capacity for 1500 people (Seating Capacity 450 people). The dining area is separate and on the same level, hence facilitates easy flow of people. The hall is fully air-conditioned with attached rooms for Bride & Groom with separate dining area.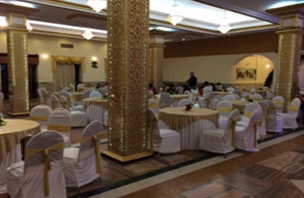 DIAMOND HALL
Diamond Hall, admeasuring 3000sq.ft., has a floating capacity for 150 people (Seating Capacity 100 people) and is ideally suitable for smaller functions and official seminars and workshops.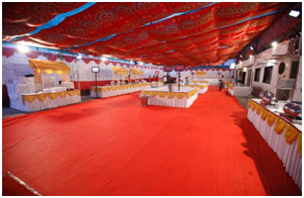 OPEN SPACE
Indraprastha has 2 open grounds, which can be utilized for bigger functions, dandiya, buffet area and other functions. Sit down dinners can be arranged as per clients request. Along with the open grounds Indraprastha can easily host functions for around 1500 people.